Jimmy Somerville, das Disco-Inferno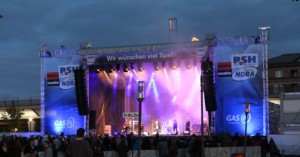 Jimmy Somerville und Live Band im Musik-Programm der Kieler Woche 2015. In einem Land weit vor 2015 zählte er mit seinen Bands Bronski Beat und The Communards zu den ganz großen Stars. Mit dem Schwulen-Drama "Smalltown Boy" und "Don't Leave Me This Way" gehörten seine Songs in den Achtzigern zum MTV-Standardrepertoire.
Das Alter hat sich in Somervilles Falsett-Stimme gefressen und hinterlässt angenehm spröde Spuren, Typ Schmirgelpapier Körnung 1000, und steht ihm gut zu Gesicht.
Wer auf der Kieler Woche 2015 zu den packenden Disco-Stampfern nicht munter mit dem Fuß wippt, ist schon längst zum Ganzjahresgrinch erstarrt.
Mit "Homage" gelingt Jimmy Somerville die Platte, die im Grunde anstelle von "Read My Lips" auf den The Communards-Split hätte folgen sollen. Selten klang der Sänger so in sich ruhend, so glücklich und lebensfroh wie auf seinem Disco-Album, aus dessen Ecken überall die Sonne scheint.
Jimmy, your disco needs you!
Datum | Zeit:
28.06.2015 | 19:00
Veranstaltungsort:
Radio NORA Bühne
Kaistraße 101
24114 Kiel
Quelle: www.Ki-Wo.de